When I was in high school, I HATED running. I couldn't believe some people just ran because they liked it. In my mind, unless you were chasing something (or being chased), there was no reason to run. Ever.
Now that I am all grown up, I love to run. I run for fun. I coach kids who run for their sport. And I wish that I had appreciated it more when I was growing up.
With that in mind, I want to pass along 5 fitness tips that I wish I knew when I was a young athlete playing sports. Take heart! Establish good habits now- you won't regret it!!
Number 1- If you don't like it, find something you do like. 
I hated running to keep in shape when I was in HS, but I enjoyed hiking. I wish now that I had seen hiking as exercise and had hiked more often. I wish I had taken some dance lessons and danced for exercise. I wish I hadn't been afraid to be bad at something- I would have tried more things. 
(Watch: To All the Perfectionists.)
Number 2- Have a goal to work towards.
Goals are great for keeping you motivated. Picking a goal will help you stay on track for when you aren't looking forward to workouts or eating healthy. Post your goals where you can see them. I had a lot of ideas in HS, but never a direct plan. Now I train for specific events and for health, whereas in HS I did random things to try to keep in shape for sports, but I wasn't very consistent in my training because "keep in shape" is a vague goal. 
Number 3- Remember not everything you read is true.
Ah, the days I spent cutting out articles from fitness magazines. Now that I know more about the science behind exercise, I realized that a lot of those trendy articles were just that- trends to get readers to buy their magazines. Some of the advice, especially on celebrity fitness, is actually really bad advice. Make sure you have done a little more research before you just believe everything you read. 
Number 4- Your food is your fuel.
When I was a fairly active high school athlete, I ate garbage. Late nights of ice cream, Swedish Fish, and Dr. Pepper. And Dunkin Donuts. So. Much. Sugar. Though my activity levels balanced my unhealthy eating, that wasn't the case as I got older. I wish now I had learned how to fuel my body with real, healthy options. I loved veggies and ate them often, but they didn't balance out my sweets addiction. Another thing I wish I had learned was to drink water more often!!! Even today, drinking enough water is hard for me. Good habits start early!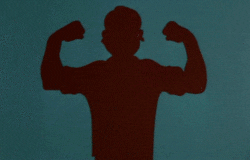 (Read: Real Talk: I Also Hate Scales.)
Number 5- Stretching after you practice or play a game is important! 
Another thing I am terrible at remembering to do to this day…. STRETCHING. Stretching helps us SUSTAIN our active time. It keeps us healthy and injury free. And it also helps us relax. As we age, stretching helps keep us mobile, as we tend to lose that flexibility with age. Start stretching now and don't stop. It will help keep you from pain later on in your life. 
Amanda Mercer is a personal trainer and fitness presenterwho loves ALL things active and competitive. Chances are good, if you see her, she'll be in workout clothes (always matching of course) and either running, biking or lifting. Her goal is to help you strengthen the fearfully and wonderfully made person that YOU ALREADY ARE and recognize that fitness and faith together will help you not only feel better but also be even more successful in all that you do. For more workout ideas, follow her blog & Instagram!
Read more posts like this: