Church was a means to an end…until my life took a dramatic turn in my late teens and early twenties. And it was all because of a few friends.
I have been thinking a lot about Easter lately.
When I was younger, it was all about the candy and eggs. We would dye our hard-boiled eggs for our Easter baskets the night before. Then, first thing in the morning, we'd be shouting down the staircase at my parents to wake them up.
My poor parents…they had to enforce a "no shouting until 7am" rule because otherwise we would be up before the sun rose.
Once we were allowed downstairs, we'd race through the house searching for the plastic eggs filled with candy. Our Easter baskets would be filled with even more candy, AND we got a small present to open.
I vaguely remember my parents requiring us to dress in our Easter best for church – which was great because I got a new outfit, but ehhhh…church.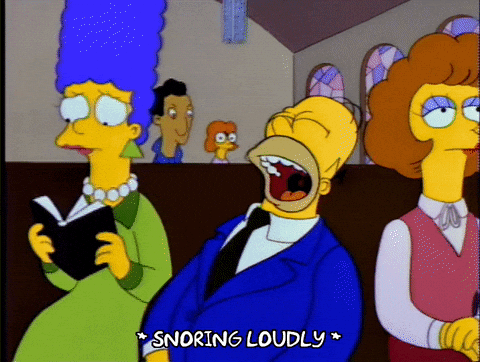 (Watch: 7 Attitudes I've Struggled with in Church.)
Church was a means to an end.
Once church was over, we got to have more fun. Sometimes, that meant eating at a restaurant with our extended family. Other times, it meant that we got to go home and eat candy. Yeah, Easter was all about those baskets of candy and all the fun to be had.
I grew up Catholic. My parents had a much stricter Catholic upbringing but were much more relaxed with all of us, despite being faithful people.
But even being that relaxed about religion did not change the fact that church was no fun to me as a child.
I enjoyed reading the Bible and participating in my religion classes, and I definitely believed in God, but that was the extent of my faith. It was very superficial. Sadly, even what little faith I had began to waiver during my adolescent years.
My life took a dramatic turn in my late teens and early twenties.
I struggled along for several years, trying to finish college and make my mark on the adult world. I made a lot of poor decisions as a newly minted "adult."
I hung around some really broken individuals and called them my friends.
I dated guys who could be best described as trouble.
I prioritized fun over making wise financial decisions.
I turned away from God.
It's funny how God puts people in our lives for a reason.
Despite my life struggles and poor decisions, I had made one positive move forward. I had become best friends with a Christian girl and her family.
Rachael was the best thing that happened to me in my young adult life. We met through a mutual friend in colorguard (think dance with large flags, rifles and swords), and we became inseparable. She and her sisters and parents welcomed me in with open arms, and became a second family to me. They gently introduced me to their Christian beliefs and helped guide me during my most troubled times.
(Watch: How to Share Your Faith.)
So, as I was wandering down the winding road of adult life with no sense of direction or purpose, it was her and her family that brought me back on track.
At almost 23 years old, I was tired.
I was tired of the drama going on around me.
I was tired of guys who had no respect for me or my feelings.
I was tired of struggling to pay my bills and keep my head above water.
I wanted more out of my life.
So I packed up my things and moved in with Rachael's older sister, Jessie.
Living with Jessie was an adventure. She has a wonderful heart, and she's an amazing friend, and there was never a dull moment in her house. She taught me how to cook and I shared my horrible taste in music with her. (I'm pretty sure she will NEVER listen to Prince or Michael Jackson ever again.) But what ended up being the best part about living with her was her persistence to get me to attend church with her and (her future husband) Pat.
(Watch: How to Be a Good Friend.)
I always had an excuse why I couldn't go – I had to work, or I had worked too late the night before. The truth was, I still thought of church like I had as a child. And I felt like God had turned His back on me when I needed Him most.
All of that changed about a week before Easter 2008.
It had been a rough day and I needed a friend. (I give a lot of credit to Pat – he willingly talked to an emotional, over-tired girl of his own accord.) I don't remember the details of our conversation; I just remember sitting on the carpeted floor, pouring out my heart to him and crying – and then he prayed over me.
And for the first time, I really listened.
There were so many times that Rachael, Jessie, and their family had done the same. I always appreciated their kindness and love, but I finally understood why they continued to pray for me even when I had essentially rejected their prayers. They knew the entire time what I needed – I needed to turn back to God and fully accept Him in my life. Pat was the final piece that pushed me.
I went to church with Jessie, Pat, and Rachael that Easter Sunday. I stood among worshiping Christians who were celebrating the resurrection of Christ and I cried.
And on that day, I gave my life to God.
Looking back now, it was the most defining moment of my life – my salvation through Jesus.
"For I am convinced that neither death nor life, neither angels nor demons, neither the present nor the future, nor any powers, neither height nor depth, nor anything else in all creation, will be able to separate us from the love of God that is in Christ Jesus our Lord." – Romans 8:38-39
When I think of Easter, I no longer reflect on my childhood memories.
(Read: Grace Upon Grace: How God Redeemed It All.)
Easter holds a special, significant meaning to me:
Not only do I celebrate the resurrection of Jesus but I celebrate my salvation through Him.
But I also celebrate the wonderful friends that God has put into my life; friends that didn't turn their backs on me during my darkest days, but instead lifted me up.
I have one request this Easter: Pray a little something extra for those who desperately need God. Lift them up. Be persistent. Show them love even when everything they say or do is so far from God. You cannot imagine the impact it can make in their lives.
Happy Easter, everyone!
Kimmie Plummer wants other women to know they are not alone. Her life is perfectly imperfect, filled with coffee and a whole lot of Jesus. She spends most of her days with her best friend & husband, Ryan, and their sweet little boy, Everett, playing with trucks and singing her best impressions of Elmo. When she's not singing (off-key) and playing trucks, you can find her at Target, trying not to buy the whole store. Follow her on Instagram at @kplummahhh.
READ MORE ARTICLES LIKE THIS: